Universities
A Brief Introduction of all Top Universities in Birmingham
A Brief Introduction to All Universities in Birmingham
Birmingham is the second largest city in the United Kingdom and is home to some of the best tourist spots, markets, cultures, events, educational institutes, and so much more.
Many Pakistani students consider Birmingham as their study destination and it is indeed a smart move.
Birmingham features excellent facilities and a great lifestyle with many employment opportunities. Birmingham is said to be one of the most affordable places to live as an international Pakistani student and is also considered to be a safe city.
In this article, we will discuss Universities in Birmingham
There are 7 universities in Birmingham UK. Each university offers a wide array of courses and students from Pakistan can apply to whichever one suits them the most.
Birmingham is popular for its world-class education and students who have attended the universities in Birmingham have shown promising careers and excellent work opportunities available to them.
Today, we at Edify Group of Companies bring you a detailed discussion of what each university in Birmingham has to offer and which one is best suited for Pakistani students.
Edify Group of Companies is the pioneer of education abroad in Pakistan and is the best educational consultant in Pakistan for the UK.

Below Is the List of Universities in Birmingham
1. University of Birmingham
The first university on our list is the University of Birmingham. According to the QS world university rankings, the university of Birmingham ranks 90.
The university offers numerous courses to international students and is famous for its excellent quality of education. The University of Birmingham is also one of the "red brick" universities of the UK.
Redbrick Universities are the ones that were founded all the way back in the 19th century. Furthermore, the University is also part of the prestigious Russel group.
The Russel group includes a handful of institutes that are known to be excellent in education and research.
As of today, the university of Birmingham offers a plethora of courses and degrees to its students.
Some of the popular degrees includes:
Dentistry
English Language studies
Religion Studies
Literature
Developmental studies
Sports
Academics
Medicine
Engineering
Economics
Business
The university was established in 1900 and is situated in the heart of Birmingham. On average, the fee for the university of Birmingham is £22,700.
The fee is course-dependent; therefore, the fee may be different for each student depending on the course they opt for.
To apply in this University, you can contact University of Birmingham agents in Pakistan.
Do You want to apply in the University of Birmingham? Click Here
2. Aston University
The Aston university is situated right in the middle of the city of Birmingham. Its beautiful location enables students to explore the city at the length of an arm and offers a great diverse multicultural environment.
For Pakistani students, it is fairly easy to fit in because the students at Aston university come from all across the globe. The university offers several degree programs such as:
Law
Business
Engineering
Sciences
Accounting and Finance
Biochemistry
However, these are not the only courses offered as there is a long list of different programs at Aston university.
Ranked in the top 100 business schools in the world, the Aston university is a prime choice for students seeking professional careers in the business world. As of 2022-23, the QS world university rankings, give Aston a rank of 485. While this is significantly lower than Birmingham University, Aston has a better research quality ranking and a higher grade of student satisfaction.
This is why in 2017, Aston university was awarded the gold award by the Teaching Excellence Framework of the UK. The average fee for Aston university is between 14000-19000 GBP. To apply in this University, you can contact University of Aston agents in Pakistan.
Do You want to apply in the University of Aston? Click Here
3. Birmingham City University
With a rich history and a diverse community of different cultures, the Birmingham city university is one of the best universities for Pakistani students.
Consisting of two campuses and a collective investment of over 340 million GBP, the university has a lot to offer. With its state-of-the-art labs, science facilities, entertainment rooms, sports, and a crime scene room, the University is at par with some of the highest-ranked Universities in the UK.
The university also offers in-house career counseling and employs professional counselors who are present for the students. The students can gain professional assistance with their studies, their job prospects, and future aspirations.
As many students struggle with writing impressive CVs, the university offers separate facilities that can help students prepare for job interviews and write top-notch CVs that will impress employers.
The university provides different courses ranging from sciences to business and arts subjects. Students can also apply for the university's exclusive "Meet or Beat" scholarship which awards them a 1000 Pound scholarship towards their studies.
Additionally, students also have access to on-campus jobs that give the students a chance to earn while gaining precious professional experience. The fee for the first year at Birmingham City University is around 13000 GBP.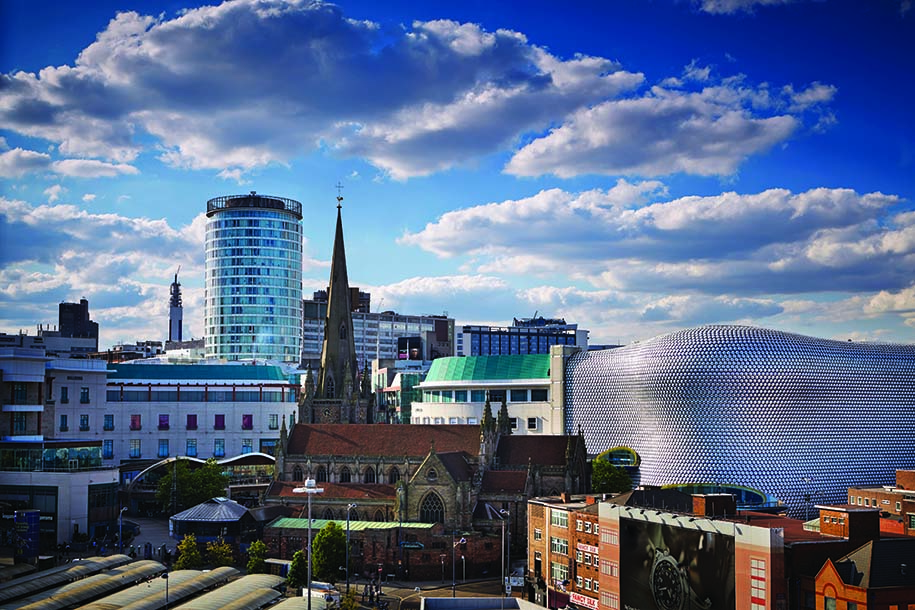 Birmingham City University is accepting number of English Language Courses for Pakistani students like, IELTS, TOEFL, PTE, & ELLT – OIETC.
To apply in this University, you can contact Birmingham City University agents in Pakistan.
Do You want to apply in the Birmingham City University? Click Here
4. Newman University
The Newman university is a catholic institute and is known for its high quality of education and degrees. The university has one of the highest employment percentages and is famous for providing excellent employment opportunities to its students.
While the university is a catholic institute of education, it succumbs to no discrimination and is open to students from all cultures and religious backgrounds.
5. University College Birmingham
The university college Birmingham (UCB) is one of the most highly respected and recognized universities in the UK-by-UK employers. UCB gained its fame because of the career-oriented approach of their educational programs and the top-tier training of students.
The UCB has great ties with employers, businesses, and the UK government itself. This leads to the graduates of UCB securing jobs fairly easily with major business tycoons, and corporations, as well as starting their own businesses.
The University offers many courses ranging from carpentry, bakery, and business school. The teaching style is primarily focused on enabling students to think critically and not rely solely on bookish knowledge.
The university aims to roll out leaders of the modern world and great business minds.
It is important to note that the University College Birmingham offers various level 2 and level 3 courses. These are foundation programs, diplomas and not undergraduate degrees.
However, these are skill-based diplomas that will help students secure admissions in their desired fields.
Along with that, undergraduate courses are also offered at the university college Birmingham. To apply in this University, you can contact University College Birmingham agents in Pakistan.

Do You want to apply in the University College Birmingham? Click Here
6. Ulster University Birmingham Campus
Ulster is one of the top ranked Universities in UK, having its main campus in Belfast offering plenty of famous courses demanded in the Pakistan & India.
Ulster University with the collaboration of QA group is also operating a campus in Birmingham where they are offering very limited courses of business, & IT.
But the good news is that the Ulster University Birmingham campus has the lowest possible fees & accepting applications of Postgraduate PG without IELTS.
Do You want to apply in the Ulster University Birmingham Campus? Click Here
To end today's discussion, we sincerely hope that this article proved to be valuable to you and helped you make an informed decision about your higher education in the UK.
Do you know that Edify Group is the best PTE center/institute in Faisalabad, Multan & Lahore.
Edify Group of Companies is the best educational consultant in Pakistan and we offer our best consultancy services for studying abroad in UK in Pakistan. If you are interested in getting your application evaluated or want professional advice for studying abroad, feel free to contact us. Edify group is the best visa consultant in Pakistan and we have our offices in Lahore, Multan, and Faisalabad.
Sign up for our news alerts!
Did you enjoy this article? Then Don't miss the next one!
Recent Posts