Education
What is a Good SAT score to Study Abroad
In this article, we'll talk about what makes a strong SAT score and how it might affect a student's application to college. We will also discuss how to improve your SAT score and the various aspects that institutions examine when analyzing SAT results.
What is SAT?
The SAT is a standardized exam that is frequently utilized as a part of the admissions process by colleges and institutions in the United States. It assesses a student's college preparation by testing their arithmetic, reading, and writing skills in arithmetic, reading, and writing. A high SAT score can significantly increase a child's chances of becoming admitted to their selected institution or university.
What is a Good SAT score?
According to the college or program to which a student is applying, a strong SAT score can be described in a variety of methods. B good SAT score is generally considered to be one that is greater than 1200, with results of 1400 or higher considered outstanding.
It is crucial to remember, however, that the average SAT score differs by state and area of the country. According to College Board data, the mean SAT score for the class of 2021 was 1051, with the average math section score of 519 and the reading and writing section score of 532.
Finally, what defines a good SAT score will be determined by the individual student's aspirations as well as the specific institution or program to which they are applying. Students should examine the SAT score criteria of their preferred institutions and programs to understand what levels are required to be competitive.
How do SAT score Affect College Admission
When reviewing a student's request to be admitted, institutions evaluate a variety of variables, including SAT scores. Academic success, extracurricular activities, personal writings, and letters of recommendation are also considered.
A high SAT score can considerably improve a student's chance of admission to their preferred institution or program. Students earning SAT scores of 1200 or higher seem to be more likely to get admitted to top schools and institutions, per the College Board. Those with scores below 1000, on the other hand, are less likely to get admitted.
It's crucial to remember that SAT scores are only one component of such a student's application, and institutions look at a variety of other variables when deciding whom to accept. Universities, for example, may take into account a student's high school academic achievements, such as GPA and school rank, as well as extracurriculars and leadership experience.
Tips for Achieving a Good SAT Score
Students can employ a variety of ways to improve their SAT scores. The most crucial thing is to begin planning as soon as possible. Many individuals begin studying for the SAT as sophomores or juniors in high school. This helps them to become acquainted with the exam structure and content, as well as identify areas for improvement.
Taking practice exams is another useful option. On its website, the College Board offers free sample exams and study resources that students may utilize to study for the actual exam. Practice exams can help students discover areas for growth as well as familiarize themselves with the test style and material.
Students can also take SAT prep classes or study with a teacher to enhance their scores. These courses can help students establish successful test-taking methods and give specific training on the areas they need to improve.
Additional Considerations in College Admissions
While SAT scores are just an important element of the college application procedure, they are not the only criteria considered by colleges when evaluating applications. Additional considerations include:
Academic accomplishments: Colleges look at a student's high schools academic achievements, such as GPA, grades, and the rigor of their courses. Students who have completed graduate classes, including Advanced Placement (AP) or International Baccalaureate (IB), may have an advantage in the admissions process.
Extracurricular activities:
Colleges take into account a student's participation in extracurricular activities such as athletics, groups, and community service. Students who have shown initiative and innovation in these organizations may have an advantage in the application process.
Personal essays:
As part of their application, several colleges ask candidates to submit personal essays. These essays allow candidates to demonstrate their writing abilities and show why they are a suitable match for the university.
Here is an example of a well-written personal essay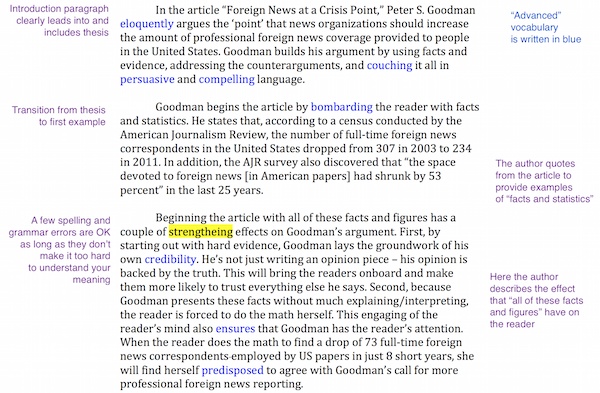 Letters of reference:
Colleges may also request letters of recommendation from instructors, counselors, or other people who can speak to an applicant's academic talents, character, and potential.
Students must submit a very well application that highlights their skills in all of these areas, not simply their SAT scores. While a high SAT score might help students stick out for admission, it is not the only element that institutions take into account.
Recommended Read:
Conclusion
In conclusion, a high SAT score can significantly increase a child's chances of being accepted to their selected institution or university. While a score of 1200 or over is typically regarded as desirable, how defines a good SAT score varies depending on the student's goals as well as the specific institution or program to which they are applying.
Students can increase their chances of getting a strong SAT score by beginning early, taking practice tests, enrolling in SAT prep classes, or engaging with a tutor. But, keep in mind that SAT scores are only one component of a student's applications, and institutions examine a variety of other variables when considering applications.
Students can boost their chances of admission to their selected college or university by submitting a well-rounded applicant that highlights their skills in studies, extracurriculars, essays, and letters of reference.
Thanks for Reading Edify Group of Companies article on "What is a good SAT score to Study abroad" if you want to know more about contact Edify Group of Companies. We have our branches in Lahore, Multan and Faisalabad.
Get in touch with your Counselor
Sign up for our news alerts!
Did you enjoy this article? Then Don't miss the next one!