Universities
University of East London (The Hub of Creativity)
University Of East London
Founded in 1898, the University of East London has been a beacon of knowledge for more than a decade. Although the institute was granted the 'university' status recently in 1992, UEL has always been dedicated to providing education and skills that are unmatchable.
The university has two separate campuses, one situated at Docklands whereas the other is located in Stratford. UEL's Docklands campus is also the first new university campus built in the last 50 years.
International students have been applying and actively studying at the University of East London for several years. Having a diverse and multicultural body of over 13,500 students, UEL warmly welcomes students from around the globe to come and get the best education.
Currently, the study body consists of students from over 135 countries. UEL also offers a vast range of courses to choose from for international Pakistanis students, along with numerous other facilities and benefits, making UEL a popular choice among students from Pakistan.

University of East London For Pakistani Students:
It is no hidden fact that UEL has been a welcoming university for international students. Pakistani students pursue their higher studies at UEL every year and provide excellent feedback on the quality of education as well as the student life experience on campus.
The university provides a handful of services that are exclusively made available for the convenience of international students to make them feel at home.
Firstly, the university of East London provides guidance and assistance from the start of your application and until your arrival at the university. Pakistani students do not find themselves alienated and confused because the support team from UEL is always available to them every step of the way.
Secondly, the university also organizes a welcome orientation event where students get a chance to meet and greet their university staff, fellow students, and their teachers. This is a great ice-breaking ceremony where students easily make new friends and colleagues.
Furthermore, UEL also provides pre-sessional English courses for Pakistani students that do not have a strong grip on the English language, especially for academic purposes.
World Rankings of the University of East London:
UEL is indeed one of the best universities in the UK and also one of the best academic and research institutes in the world. The Times University Guide 2023 ranks UEL as the 131st top university and similarly, UEL comes at 113th position according to the Guardian University Guide 2023.
As for the research quality of UEL, 92% of the research is classified as world-leading and internationally excellent research that is recognized around the globe.
The university does not only shine in research and world rankings but has also achieved magnificent rankings for some of the top subjects it offers.
Read about: ROYAL HOLLOWAY (UK'S LEADING RESEARCH-INTENSIVE UNIVERSITY)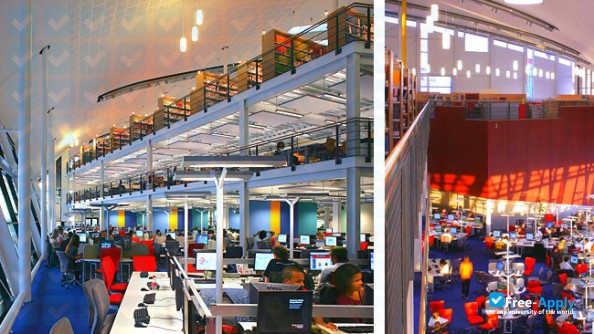 Student Accommodation For Pakistani Students At UEL:
The University of East London offers on-campus accommodation services for international students. This makes it easier and more convenient for Pakistani students to schedule their studies and get acquainted with the university while living on campus.
UEL has almost 1200 rooms dedicated to students and all rooms come with en-suite facilities.
Staying close to modernization, the university also offers internet access points in all rooms that make studying and research easier for students. The University of East London also provides round-the-clock security to the student accommodation building.
Subsequently, private residency is also available nearby. The accommodation service department at the university helps arrange suitable residency for students.
Courses Offered At UEL:
University of East London offers a plethora of courses for both undergraduate and postgraduate programs. Some of the popular courses offered are:
· Accounting and Finance
· Engineering
· Aeronautical Engineering
· Banking and Finance
· Biochemistry
· Civil Engineering
· Law
· Fashion
· Human Resource Management
· Physiotherapy
· Sociology
· Sports Business Management
· Tourism
The list of courses is quite extensive; however, the university is popular for the abovementioned courses. The faculty at the University of East London is highly qualified and provides the best education and professional skills to students.

How To Apply To the University Of East London:
The first and foremost step is to get enrolled for an English language proficiency test. Because Pakistani students are applying from a non-English speaking country, the university requires an English proficiency test. UEL recognizes the following tests as proof of the English Language:
· IELTS Academic
· IELTS for UKVI
· TOEFL iBT
· PTE Academic
· Cambridge IGCSE
If you are willing to sign up for any English proficiency test, feel free to contact us for the best IELTS consultants in Pakistan.
Edify Group of Companies provides preparation for IELTS in Pakistan and all other English proficiency test preparations and registrations in Pakistan.
After you have enrolled and successfully passed the English proficiency test, you can get started on your application. The following documentation is required to complete your application:
· Previous Academic Documents
· English Proficiency test Transcript
· Statement of Purpose
There might be some other documents that the university requires, depending on your program. If you are not sure of what documents are to be arranged, contact Edify group of companies for education consultancy in Pakistan.
Fees And Scholarships:
The University of East London offers various scholarships to Pakistani students on the basis of their previous academics and needs. Each scholarship has different eligibility requirements and students can apply to as many as they qualify for.
The annual average fee at the University of East London is almost £12,000. However, each course has a different fee structure.
To know the exact fee of your desired course, feel free to contact us for the best and most professional educational consultancy in Pakistan.
To apply in University of East London you can contact UEL agents in Pakistan. Edify Group of Companies is dedicated to helping and enabling students reach their academic heights and study abroad with the easiest processes.
To get started on your application, reach out to us today and get the services of the best educational consultant in Pakistan. Apply Now
Edify Group of Companies is the best visa consultant in Pakistan and we have our offices in Lahore, Multan, and Faisalabad.
Sign up for our news alerts!
Did you enjoy this article? Then Don't miss the next one!
Recent Posts