Education
Step to Step guide on Australian Student Visa Subclass 500
The best universities and colleges in the world are located in Australia, and they provide a wide variety of academic programmes to suit the needs of students from all walks of life. Getting a student visa is a crucial step in the process for foreign students who want to study in Australia. This post will examine the prerequisites for receiving an Australian student visa and provide you a comprehensive how-to for submitting an application.
Choose the right course and institution
You must decide on the programme and school you want to attend before submitting an application for an Australian student visa. It's crucial to pick a programme that fits both your academic and professional objectives, as well as a college with a solid reputation and Australian government recognition.
Check your Eligibility
You must fulfil specific standards in order to be qualified for an Australian student visa. These consist of:
enrolling in a programme of study in Australia that is recognised as meeting the requirements for genuine temporary entrants (GTE)
being morally upright
maintaining standards of health
sufficient health insurance
fulfilling financial obligations
Gather your document
You will need to submit a number of papers in order to apply for an Australian student visa. These consist of:
Proof of enrollment in an Australian programme of study that is officially recognized.
Proof of English language competency in a passport.
Proof of financial capability.
Health insurance policy GTE statement Character reference.
Apply Online
You must submit an online application on the Department of Home Affairs website to be considered for an Australian student visa. You must register for an ImmiAccount and complete the online application by including all required details and supporting documentation.
Payment of the application cost
You must pay the application cost once you've submitted your application. The fee may be paid online using the ImmiAccount site and varies based on the type of visa you're applying for.
Participate in a visa interview, if necessary
You might occasionally need to appear at a visa interview at the Australian embassy or consulate in your country of residence. This will examine your GTE statement and decide whether you match the eligibility requirements.
Recommended Read:
GTE - Genuine Temporary Entrant
Wait for a decision
You'll have to wait for a response after filing your application and appearing for a visa interview (if necessary). Several variables, including the number of applications being processed at the time of your application, affect the processing time for an Australian student visa.

Tips for successful application
To assist you successfully apply for an Australian student visa, consider the following advice:
Apply ahead of time: In order to allow for processing time and prevent any delays in the commencement of your study, it is crucial to apply for your student visa as early as possible.
Give truthful information: Make sure that every piece of information you include in your application is true and current. Any inaccurate or misleading information might result in the rejection of your application or the cancellation of your visa.
Be truthful in your GTE statement: The purpose of the GTE requirement is to guarantee that students have a genuine desire to study in Australia and a compelling reason to return home after completing their studies. To show that you have sincere intentions, be truthful and upfront in your GTE statement.
Reach the necessary financial goals: Make sure you have the money necessary to pay your tuition and living expenses in order to qualify for an Australian student visa.
Uphold moral character: If you have any criminal convictions or charges, be careful to disclose them, together with any supporting paperwork, to demonstrate that you fit the character standards for an Australian student visa.
Monitor your application: Regularly check the status of your application, and reply quickly to any requests for more details or supporting evidence.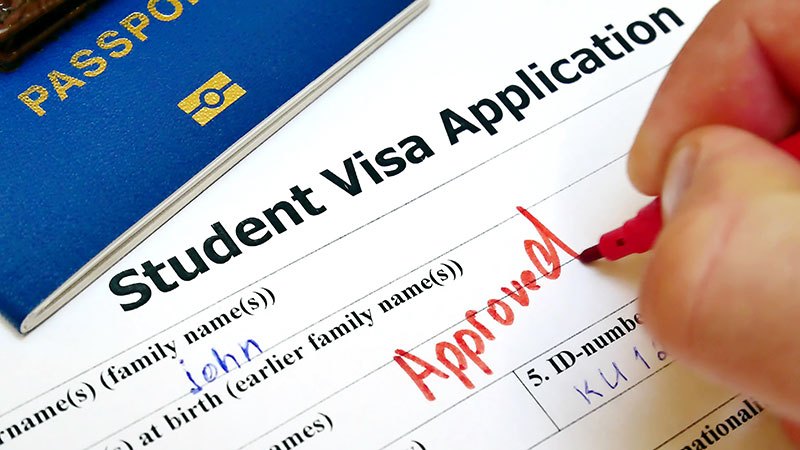 Conclusion
In conclusion, for foreign students who want to study in Australia, acquiring an Australian student visa is a necessary first step. By taking the actions indicated in this manual. You may improve your chances of receiving a visa and guarantee a seamless transition to your studies in Australia by keeping in mind the advice for a successful application.
It's crucial to keep up with any updates or changes to the criteria because the requirements for Australian student visas may vary from time to time. The most recent information is available on the website of the Department of Home Affairs or by speaking with a licensed migration agency.
International students studying in Australia are also subject to specific obligations, such as maintaining full-time enrollment, attending courses, and demonstrating sufficient academic progress, in addition to completing the visa requirements. Your visa may be canceled if you don't comply with these requirements.
Overall, it takes careful planning, preparation, and attention to detail to be granted an Australian student visa. You may manage the visa application process with confidence and have a successful and rewarding study abroad experience in Australia by following the instructions provided in this book and, if necessary, receiving guidance from a licensed migration agency.
Sign up for our news alerts!
Did you enjoy this article? Then Don't miss the next one!
Recent Posts