Universities
Coventry University London - International students
Coventry University London
Coventry University London opened its London campus in the heart of London's financial district in 2010 and quickly gained fame for its excellent teaching quality and globally recognized degrees in Business and Economics. Being one of the largest institutes in Europe that offers business degrees.
Coventry University is well known for its excellent teaching, world-class research, and applaudable degree results. Located centrally in the business district of London.
the students at Coventry University get a first-hand experience of the latest market trends and get to learn practical skills related to their fields of study. Students from all around the world come to Coventry university to embark on their careers, especially in business and economics subjects.
Situated in the world's number one student city, London, students at Coventry university enjoy the diversified life of London, filled with colors, lights, and events that happen around the year.
Hundreds of thousands of immigrants from all over the world reside in and visit London, leading to a culturally rich experience for international students. Finding your favorite foods, clothing, events, and shopping centers is an easy task in London.
The city also offers exceptional nightlife with numerous cafes, nightclubs, massive parks, and tourist attractions. If you want to study and explore a diversified city abroad, Coventry university is the best choice.

Courses Offered at Coventry University London:
At Coventry University London, 20 undergraduate programs along with 24 postgraduate programs are offered to international students. The university is largely famous for its excellent degrees in the following disciplines:
· Business
· Management
· Economics
However, the university also offers several other degrees in subjects of:
· Arts
· Engineering and Technology
· Hospitality
· Fashion
· Marketing
· Event Management
Just like all other courses offered in the UK, the duration of undergraduate courses at Coventry University London is around 3 years. Subsequently, postgraduate programs are for a 1-year duration.
Fees at Coventry University London for international students:
Annually, international students at Coventry University London can expect to pay anywhere between £16,500-17,500. However, the fee is subjective and may change according to the course you choose.
To find out the exact fee for your desired course at Coventry University London, contact us now at Edify Group of Companies, the best Education consultant in Pakistan.
Apart from the tuition fee, a major portion of expenses for international students goes towards accommodation and other living costs. On average, the annual cost of living in London is about £12,000. This cost may increase or decrease, depending on the lifestyle of the student.
However, the UK Study Visa allows students to work while studying. To see the guidelines for working as an international student in the UK, contact us at Edify Group for a detailed session with the best education consultants in Pakistan.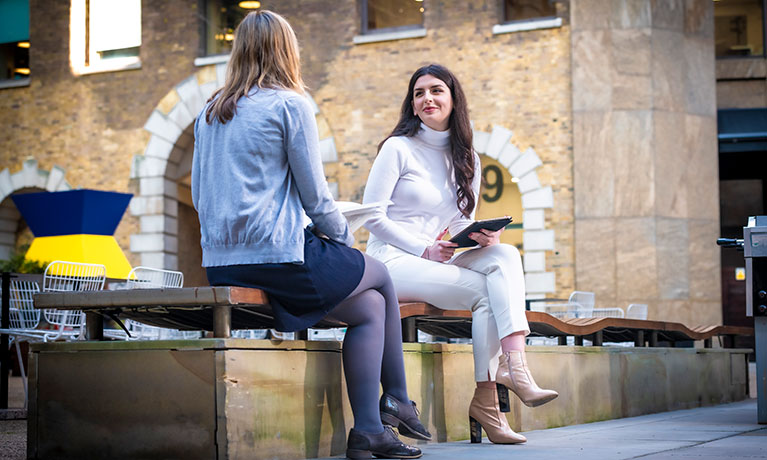 Facilities at Coventry University London:
Coventry university is home to more than 2000 students that come from over 80 different countries. The global and culturally rich environment provides a warm welcome to students from all cultures, races, and ethnicities.
The university has a dedicated student union that is in charge of organizing different events throughout the academic year, enabling students to bond together as fellow mates and make valuable social connections.
Furthermore, the university also has an exclusive student cafeteria, modern teaching facilities, and unique study pods where students can study without any distractions. The university also has one of the best-integrated staff in the UK.

Benefits of Studying at Coventry University London:
Although the university is young, it has actively made excellent links with various industries in the UK and internationally. Offering one of the best business educations in the UK, Coventry university enables its graduates to develop a vast portfolio of practical skills throughout their academic year(s) which later help in employability.
Each course is taught by professionals of the highest standards and employability is a key focus in lectures. Using the industrial links of the university, graduates of Coventry university find permanent job placements swiftly.
The business sector keeps Coventry University's degrees in high regard and graduates of Coventry are usually preferred over other candidates.
Furthermore, the university also strongly emphasizes the importance of entrepreneurship and provides students with accurate and relevant information that would help them build their own businesses and benefit the community and society as a whole.
World Rankings of Coventry University London:
According to the QS World Rankings, Coventry University London is ranked in the top 30 universities globally for international students. This is primarily because the university has a compact student body as compared to other institutes of the UK and internationally.
therefore leading to more individual attention towards students and an overall experience that is splendid. Similarly, the Guardian University Guide also ranks Coventry University in the top 15 universities in the UK.
Now that the rankings have been discussed, another notable achievement of the Coventry university is the gold standard that it achieved by the Teaching Excellence Framework UK for its outstanding teaching and learning.
Apart from these rankings and achievements, the Times magazine also featured Coventry University as the university of the year for student experience.
To apply in this university**,** you can contact Coventry University agents in Pakistan. Do you want to apply in the Coventry University?**** Apply Now
Thank you for reading our article on Coventry University London today. If you are willing to study abroad as an international student and looking for the best education consultant in Pakistan, Contact us at Edify Group.
We provide the best education consultancy in Pakistan along with IELTS preparations, and the best career counseling in Pakistan, and we have helped thousands of students from Pakistan to study in the UK. To pursue your higher education at Coventry university London from Pakistan, get in touch with us now.
Sign up for our news alerts!
Did you enjoy this article? Then Don't miss the next one!
Recent Posts