Career Counselling
Canada vs USA for Masters: Which Should You Choose? | A Comprehensive Comparison
Pursue a master's degree. But picking the best nation for your postgraduate study might be a difficult choice. We will examine the main elements in this post to assist you choose between Canada and the United States wisely when studying a master's degree.
Introduction
Your academic and professional future may be impacted by where you decide to pursue your master's degree. International students looking for a top-notch education and a variety of cultural experiences frequently choose Canada or the United States as their travel destinations.
We shall examine the elements in this post that may influence your choice between the two nations. We will examine the crucial factors to take into account while deciding between Canada and the USA for your master's degree, from academic excellence and cost to job chances and post-graduation prospects.

Academic Excellence Between Canada and USA
Academic Excellence: Both the USA and Canada are well-known for having top-notch educational institutions that provide a variety of master's degree programmes. Prestigious universities with a long history of academic success may be found in the US, including Harvard, Stanford, and MIT.
The University of Toronto, McGill University, and the University of British Columbia are just a few of Canada's elite educational institutions.
Both nations provide opportunity to study from outstanding faculty members and have high academic requirements. The decision between the two will ultimately come down to the particular programme and university that you are interested in.
Affordability & Cost of Living:
For many students, the price of their education and daily costs are their top priorities. Canada frequently outperforms the United States in this area. Canadian institutions often have lower tuition costs than American universities, which draws in overseas students.
To help ease the financial strain, Canada also offers funding choices and scholarship possibilities. Major Canadian cities like Toronto and Vancouver may still be pricey in terms of cost of living, but they are still considerably cheaper when compared to American cities like New York or San Francisco.
To make an educated choice, carefully assess your financial condition and look into the options that are accessible.
Opportunities for Employment in Canada and USA:
Opportunities for Employment: In order to supplement their income and acquire experience, many master's students look for internships or part-time jobs. International students can find part-time employment in Canada while they are studying, either on or off campus.
Through their Optional Practical Training (OPT) program, which permits overseas students to work for up to a year after finishing their studies, the United States also offers comparable options. International students may find it more difficult to find long-term employment after graduation due to the tightening of immigration laws in the USA.
Canada, on the other hand, has implemented more welcoming immigration policies, making it easier for international students to transition into the workforce after completing their studies.
Diversity & Cultural Experience in Canada and USA
Both Canada and the USA are renowned for their multicultural and varied cultures, giving students the opportunity to become fully immersed in thriving and welcoming communities.
But Canada has developed a reputation for being very kind to foreign students. Canada offers a setting where students from all origins may thrive and fee accepted because of its diversified population and strong multicultural policy.
Although recent political developments have generated worries for some overseas students about problems like immigration regulations and discrimination, the USA still provides a rich cultural experience.
When deciding between the two nations, it is important to take your degree of comfort and the type of cultural experience you desire into account.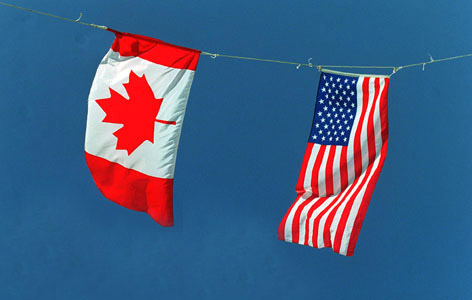 Opportunities for Research in Canada and USA
Students interested in research can work on innovative initiatives and cooperate with top academics in both Canada and the United States. American colleges frequently get significant money for research, allowing students to participate in ground-breaking projects.
In terms of innovation and scientific development, the United States has historically been in the forefront. However, Canada has recently made large expenditures in R&D, and Canadian institutions have become important centres for worldwide research.
When assessing research prospects in each nation, it is important to take into account elements including the availability of research funding, faculty specialisation, and accessibility to cutting-edge infrastructure.


Read More
Post-Graduation Immigration Pathways
It is crucial to take into account the long-term chances of residing and working in the nation where you will pursue your master's degree while selecting a location. The Post-Graduation Work Permit (PGWP), a beneficial post-graduation immigration track, is available in Canada.
After finishing their studies, this visa enables overseas students to work in Canada for up to three years. For students looking to enter the Canadian workforce and get useful job experience, the PGWP acts as a bridge.
Although the OPT programme in the United States grants temporary work authorisation, the road to acquiring a long-term work visa, such as an H-1B, can be difficult because of the restricted number of visas available and the increased scrutiny of immigration regulations.
In conclusion, there are good chances to pursue a master's degree in both Canada and the United States. Take into account aspects including academic standing, college costs, employment prospects, cultural experiences, research possibilities, and post-graduation immigration paths before making your choice.
The best decision will ultimately rely on your personal tastes, professional objectives, and financial condition. You should conduct in-depth research, speak with academic advisers, and network with existing students to acquire information that will guide your selection. Wishing you success on your master's path!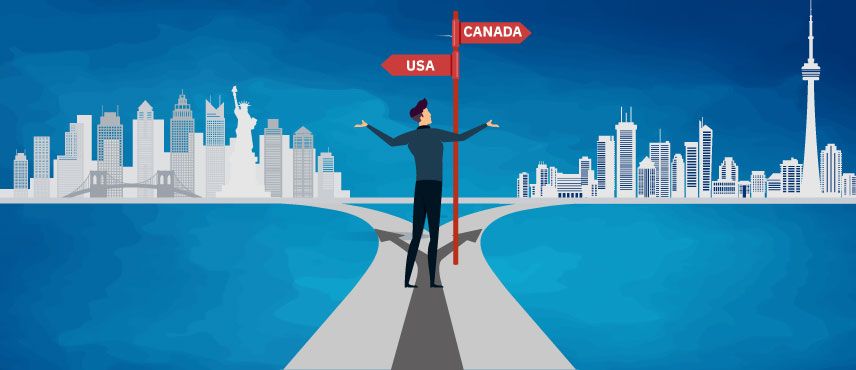 FAQ'S
Q.1) For International students, are Canadian institutions cheaper than American ones?
When compared to American colleges, tuition costs in Canada are often less expensive for international students.
Q.2) Can international students work part-time while pursuing a master's degree in the United States?
Yes, International students can participate in the Optional Practical Training (OPT) programme and work part-time in the United States.
Q.3) Do Canadian colleges provide possibilities for foreign students to work after graduation?
The Post-Graduation Work Permit (PGWP), which enables overseas students to work for up to three years after completing their studies, confirms that Canada offers post-graduation employment options.
Sign up for our news alerts!
Did you enjoy this article? Then Don't miss the next one!
Recent Posts