Universities
Mahsa University Malaysia: Empowering Minds and Transforming Lives | Premier Education Institution
We'll look at the benefits of Mahsa University Malaysia for students looking to further their studies in Malaysia. We will talk about the special benefits and features that make Mahsa University stand out from other academic institutions, emphasising its dedication to academic achievement, relevance to industry, cutting-edge facilities, variety of programme offers, and welcoming campus life.
Mahsa University trains graduates for prosperous jobs in their chosen professions with an emphasis on providing students with practical skills and industry exposure. Students may begin a revolutionary educational experience and put themselves on a road to greatness and success by selecting Mahsa University.
Introduction
Mahsa University Malaysia is a well-known university devoted to offering high-quality education and altering students' lives. Mahsa University has established itself as a premier centre of learning in Malaysia, thanks to its dedication to quality, cutting-edge facilities, and industrial links.
The university educates students for successful careers and equips them with the information and skills needed to make a positive difference in their respective sectors by offering a varied choice of programmes across several disciplines.
Let us look at the distinctive features that distinguish Mahsa University and make it an excellent choice for prospective students.
Excellence in the classroom and industry-relevant education
Academic quality is Mahsa University's main priority, and the school makes sure that its students obtain a thorough and useful education. The university's seasoned professors are authorities in their professions and give students the information and skills they need to succeed.
Together with business experts, the curriculum is created to guarantee that graduates are ready for the needs of the job market.
Modernised Resources and Learning Environment
Modern labs, well-stocked libraries, and specialised learning spaces are just a few of Mahsa University's state-of-the-art amenities. These resources establish a hands-on learning atmosphere and give students practical experience.
Students have access to state-of-the-art tools and technology, which improves their educational experience and gets them ready for difficulties in the real world.
Industry ties and real-world experience
Mahsa University's solid ties to several sectors are one of its main advantages. The institution actively works with business partners to provide students exposure to the real world and opportunity to use their expertise.
Students get vital industry insights and develop critical skills that offer them a competitive edge in the job market through internships, industrial placements, and group projects.
Offerings from a Variety of Programmes and Flexible Routes
Mahsa University provides a wide choice of programmes in several fields to meet the different interests and professional objectives of its students. Students have many options to follow their passions, from engineering and hospitality to business and healthcare.
Additionally, the institution offers flexible routes that let students personalise their education and select the course of study that best suits their objectives and desires.
Cultural Diversity and a global perspective
Mahsa University promotes a thriving multicultural atmosphere and values cultural variety. Students get the chance to meet and work with colleagues from varied backgrounds thanks to the diversified student body from different nations.
Students are more equipped to succeed in a multicultural and linked world because to this exposure, which also encourages cultural awareness and global viewpoints.

Recommended Read:
Swinburne University Sarawak Campus: Shaping Education In Malaysia | Top Courses, Rankings, Campus Life
Campus Life that Supports Whole-Person Development
The comprehensive growth and general well-being of each student are given top priority at Mahsa University. The institution provides a variety of support services, such as career counselling, counselling, and clubs and organisations for students.
Students can participate in extracurricular activities, athletics, and volunteer work, which promotes leadership potential, personal development, and a healthy lifestyle.
Conclusion
Mahsa University Malaysia is a shining example of academic achievement and offers its students life-changing educational opportunities. Mahsa University educates students for successful careers and gives them the tools they need to make a significant difference thanks to its dedication to academic quality, industrial contacts, cutting-edge facilities, and variety of programme options.
The university's emphasis on holistic development, supportive campus community, and global viewpoint ensure that students not only acquire a top-notch education but also grow into well-rounded persons. Selecting Mahsa University is a step towards a bright future and a chance to achieve success on both a personal and professional level.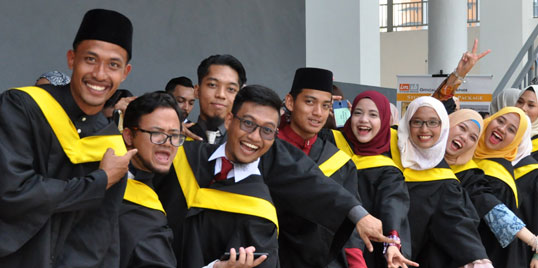 FAQ'S
Q.1 What distinguishes Mahsa University Malaysia from other academic institutions?
A: Mahsa University stands out for its dedication to academic excellence, industrial relevance, cutting-edge facilities, a wide range of programme options, and a welcoming campus culture that gives students a comprehensive and transformational learning experience.
Q.2 Does Mahsa University offer courses in a variety of subject areas?
A: To meet the varied interests and professional objectives of students, Mahsa University provides a wide choice of programmes in many different disciplines, including healthcare, business, engineering, hospitality, and more.
Q.3 What kind of job market preparation does Mahsa University offer its students?
A: Mahsa University has solid relationships with the business, giving students real-world experience through internships, industrial placements, and team projects. The curriculum was developed with input from professionals in the field, giving students the information and abilities necessary for fulfilling jobs.
Q.4 Is there a global viewpoint at Mahsa University?
A: multicultural atmosphere is provided by Mahsa University, which embraces cultural variety. Students that are part of a varied student body obtain an international perspective and learn how to communicate across cultures.
Q.5 What kind of student assistance services does Mahsa University offer?
A: Mahsa University provides a range of support services, including as career counseling, student clubs, and organizations. For students, these services promote personal development, well-being, and a healthy lifestyle.
Sign up for our news alerts!
Did you enjoy this article? Then Don't miss the next one!
Recent Posts