Education
Top Seven Cities in Australia for international students in 2024
Australia has witnessed a significant increase in international students flocking to its shores, and there are several compelling reasons for this trend.
Australia proudly boasts some of the world's finest universities, many in cities with international acclaim for their student-friendly environments.
According to the QS Top Universities ranking, Australia houses seven cities within the top 100 best student cities globally.
These cities excel across various metrics, including student diversity, affordability, and employment prospects, making them top choices for Australian and international students.
In this article, we'll delve into the top cities in Australia that offer an exceptional experience for international students.
1. Melbourne
Melbourne takes the top spot on the list, securing the #6 position in the QS Top Universities ranking of the best student cities.
Melbourne's appeal stems from its perfect score in student diversity, creating an environment where international students feel right at home.
This vibrant metropolis embraces a rich multicultural identity.
The University of Melbourne, Australia's second-highest-ranked institution, has been a prominent part of Melbourne's academic landscape since 1853.
It is one of the sandstone universities in Australia, representing the country's oldest higher education establishments.
This Group of Eight members has gained recognition worldwide due to its rich history and multiple campuses throughout Victoria.
Top Universities in Melbourne
In addition to the University of Melbourne, Melbourne is also home to six other globally renowned universities:
Monash University
Royal Melbourne Institute of Technology (RMIT)
Deakin University
Swinburne University of Technology
La Trobe University
Victoria University
Beyond academics, Melbourne is celebrated as the cultural capital of Australia, offering a plethora of self-expression avenues through arts, sports, and culinary delights.
The city's dynamic lifestyle ensures international students can savor local and global experiences, from world-class theaters to culinary adventures.
2. Sydney
Following closely behind Melbourne, Sydney claims the #8 position in the QS Top Universities' Best Student Cities 2022 ranking.
Sydney's iconic Opera House is just one of its many attractions, making it a fantastic city to live and study in.
The University of Sydney, one of Australia's top three institutions, boasts a rich history as the country's oldest university. With 110 Rhodes Scholars and five Nobel Laureates among its alumni, the University of Sydney is a member of the Group of Eight and ranks highly in graduate employability.
Top Universities in Sydney
In addition to the University of Sydney, Sydney is home to several other reputable institutions, such as:
University of New South Wales
University of Technology, Sydney
Macquarie University
Western Sydney University
Sydney is also known for its excellent student diversity and vibrant multicultural community despite being Australia's most populous city.
The city's pleasant climate complements its beautiful natural attractions, including the Royal Botanical Gardens, Bondi Beach, and the America Bay Track.
The city's lively cultural scene, highlighted by the Sydney Festival, ensures that students are continually immersed in artistic and cultural experiences.
3. Brisbane
Brisbane is rapidly ascending as a top student city, currently within the top 30 of the QS Top Universities' Best Cities list.
With its stunning natural surroundings, thriving economy, and welcoming climate, Brisbane is an appealing destination for tourists and students.
The city is home to three world-class universities, including the University of Queensland, a sandstone university, and a Group of Eight members.
The University of Queensland, with 117 Rhodes Scholars and a Nobel Laureate among its alumni, stands out for its emphasis on research and teaching quality, frequently receiving Australian Awards for University Teaching (AAUT).
Brisbane's affordability makes it even more enticing to international students.
It offers an excellent student mix, increasing employment prospects, scenic natural attractions, and a vibrant urban environment.
Top Universities in Brisbane
The University of Queensland (UQ)
Queensland University of Technology (QUT)
Griffith University
University of Southern Queensland (USQ)
Australian Catholic University (ACU)
The city's proximity to the Gold Coast and Sunshine Coast makes it an ideal base for exploring Australia's natural wonders.
4. Adelaide
Adelaide is an excellent choice for students seeking an Australian experience on a budget.
With a population of just over a million, Adelaide provides access to stunning beaches and mountain trails.
It is home to three globally ranked universities, including the University of Adelaide, one of the sandstone universities with a distinguished alumni list that includes Nobel Laureates and Rhodes Scholars.
Other universities in Adelaide include the University of South Australia and Flinders University.

Top Universities In Adelaide
University of Adelaide
University of South Australia
Flinders University
Carnegie Mellon University in Australia
Torrens University Australia
Adelaide offers a relaxed, multicultural environment, a sunny climate, and a balanced mix of modern infrastructure and natural attractions, from art galleries and zoos to shopping districts and vibrant nightlife.
5. Perth
Often dubbed one of the world's most livable cities, Perth combines breathtaking natural landscapes with excellent universities.
The University of Western Australia, Australia's sixth-oldest university, consistently ranks in the top 100 globally.
It boasts two Nobel Prize winners among its alumni and 106 Rhodes Scholars. The city also hosts Curtin, Murdoch, and Edith Cowan.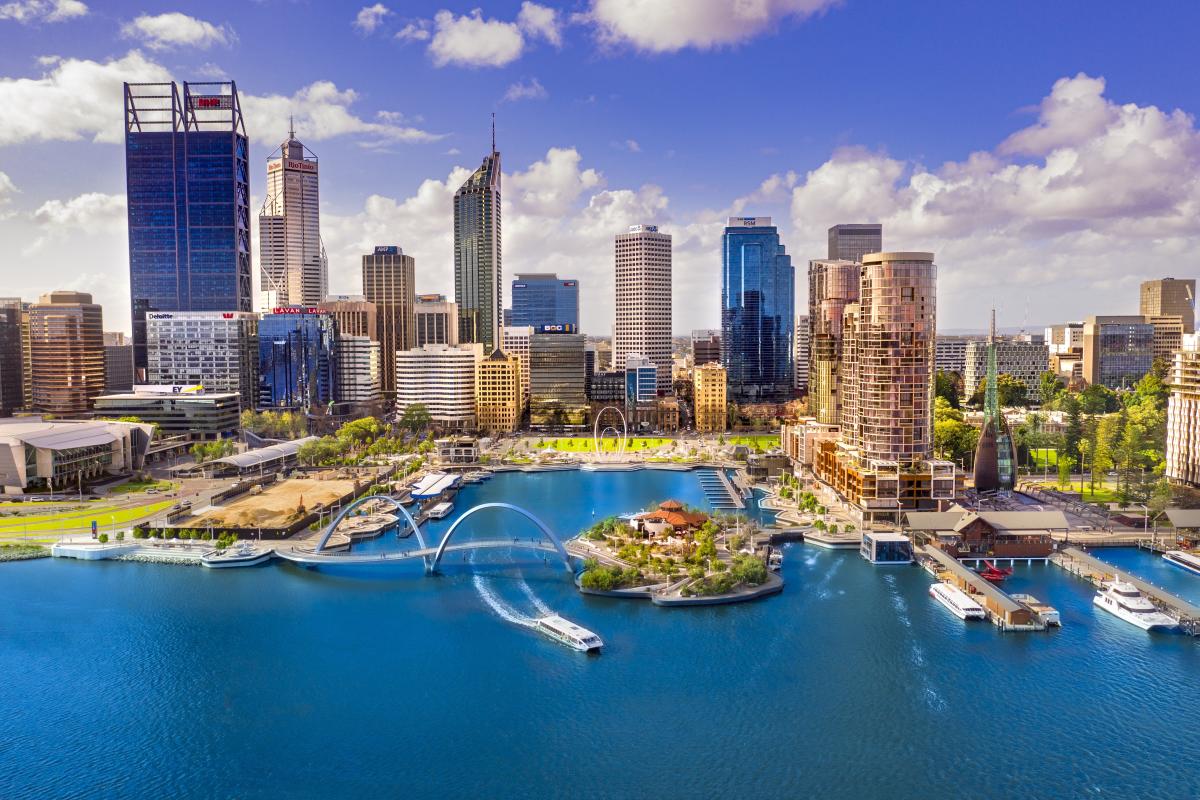 Top Universities in Perth
The University of Western Australia (UWA)
Curtin University
Murdoch University
Edith Cowan University (ECU)
Southern Cross University
Perth balances the amenities of large metropolitan cities like Melbourne and the charm of smaller towns like Adelaide.
It offers a unique blend of natural beauty and top-tier educational institutions, making it a perfect choice for international students.
6. Canberra
As the capital of Australia, Canberra holds the distinction of housing one of the country's best universities, the Australian National University.
This institution ranks highly in international listings and is renowned for its research excellence.

Top Universities in Canberra
Australian National University (ANU)
University of Canberra
Australian Catholic University (ACU)
Charles Sturt University (CSU)
University of New South Wales (UNSW) Canberra at ADFA
Canberra offers an affordable yet high-quality education and a multicultural environment catering to students seeking a quieter, suburban experience.
7. Gold Coast
Don't underestimate the Gold Coast's appeal; it earns a perfect 100 in Student View on QS Top Universities' Best Student Cities.
Students believe this city, and it's a worthy contender with a place among the top 100 best student cities globally.
The Gold Coast is home to Griffith University, Bond University, and Southern Cross University, providing various academic opportunities.

Top Universities in Gold Coast
Bond University
Griffith University
Southern Cross University
TAFE Queensland
Le Cordon Bleu Australia, Gold Coast
With its golden beaches, lush forests, galleries, and diverse culinary scene, the Gold Coast offers a memorable and enjoyable student experience.
Conclusion
In conclusion, Australia offers an array of cities catering to international students' diverse needs.
Each town boasts prestigious universities, unique natural landmarks, and a wealth of cultural and outdoor activities.
The multicultural environment in each city is a significant draw for students worldwide, making the Land of Oz a remarkable destination for higher education.
FAQS
What is the top-ranked city for international students in Australia?
Melbourne tops the list, with a potent student mix, excellent universities, and a vibrant cultural scene.
Are these universities in Australia open to international students, and do they offer scholarships?
Australian universities are open to international students; many offer scholarships and financial aid options.
Which Australian city is known for affordability and a high quality of life for students?
Brisbane is renowned for offering a more affordable cost of living and a high quality of life, making it an attractive destination for students.
Sign up for our news alerts!
Did you enjoy this article? Then Don't miss the next one!
Recent Posts