English Test
Common Mistakes to avoid in IELTS Writing
One of the key parts of the IELTS exam, the writing test assesses a candidate's proficiency in writing in English. The two-task writing test evaluates a candidate's ability to effectively organize their ideas, apply proper language, and write in the suitable tone.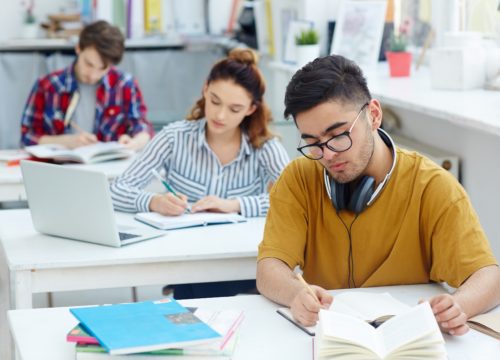 Read More
IELTS General Writing Task 1 - Letter Writing
Writing Test Format:
There are two tasks in it, each of which is intended to evaluate a different part of the applicant's writing abilities. In Task 1, the applicant is given a visual representation—a graph, chart, or diagram, for example—and asked to explain the data in their own words. In Task 2, the applicant is given a topic or a statement and is required to respond by writing an essay with justifications, examples, and supporting data. The 60-minute writing test is scored according to a number of factors, such as the applicant's capacity for clear concept organization, the use of acceptable syntax and vocabulary, and the development of persuasive arguments.
Common Mistakes to Avoid in IELTS Writing
Mistake #1: Not understanding the question
One of the most frequent errors that test takers make is failing to comprehend the question when taking the IELTS Writing test. Before beginning to write, it is crucial to thoroughly read and consider the question prompt. You run the danger of misinterpreting the question if you don't fully understand it, which could result in an incorrect or irrelevant response. Even if the rest of your work is excellent, this could affect your score. Therefore, before you start writing your response, it's important to pay attention to understanding the question and making sure you know exactly what is being asked of you.
Mistake #2: Not organizing the essay effectively
Effective essay organization is essential for scoring well on the IELTS Writing test. Unfortunately, improper essay format is one of the most frequent errors that test-takers make. It can be tricky to read and comprehend an essay that is disorganized, which makes it difficult for the examiner to give it a high score. So before you begin writing, it's essential to take the time to plan and organize your essay. By doing this, you'll make your arguments more logical and coherent and make it simpler for the examiner to give you the grade you merit.
Mistake #3: Using inappropriate vocabulary
Many applicants mistakenly believe that using complex language is a way to impress the examiner and raise their IELTS score. This strategy, meanwhile, can backfire because test-takers frequently make it. When you use unfamiliar words, you frequently make grammatical and structural mistakes that make it difficult for the examiner to understand what you meant to say. Therefore, it's best to put emphasis on accuracy and clarity of speech rather than employing a wide variety of words. Even if having a broad and advanced vocabulary can improve your writing, only use words you are certain of and know how to use correctly in context. Keep in mind that a strong writing score on the IELTS test depends on clarity.
Mistake #4: Not using appropriate grammar
Achieving a high score on the IELTS Writing test requires maintaining proper grammar. It's critical to be using proper grammar throughout your essay because grammar errors can drastically lower your grade. The use of suitable subject-verb agreement, the use of the appropriate tense, and the use of precise punctuation should be your main concerns. Furthermore, a solid grasp of language is crucial when taking the IELTS Writing test. The examiner will be impressed by your language skills if you use a diversity of terms. It's important to use words you are familiar with and to use it in the right context, though. An excellent IELTS Writing score also depends on maintaining the flow.
Mistake #5: Not managing time effectively
You must successfully manage your time because the IELTS Writing test is timed. Many applicants overcommit and spend an excessive amount of time on one activity, leaving little time for the other tasks. Similar to this, some applicants might conclude their work too quickly, providing insufficient details, which would result in a lower score.
Studying IELTS with Edify:
You will benefit from studying IELTS at Edify Group of Companies since they have state-of-the-art classrooms that foster excellent learning possibilities. Additionally, Edify employs highly qualified personnel that not only provide their students with problem-solving techniques but also with useful information. For instance, the curriculum created by the institution's instructors is structured to meet the needs of students from a variety of backgrounds. Edify's instructors strive to customize their courses in accordance with the particular requirements of their students because they don't think there is a one size fits all approach.
Sign up for our news alerts!
Did you enjoy this article? Then Don't miss the next one!
Recent Posts